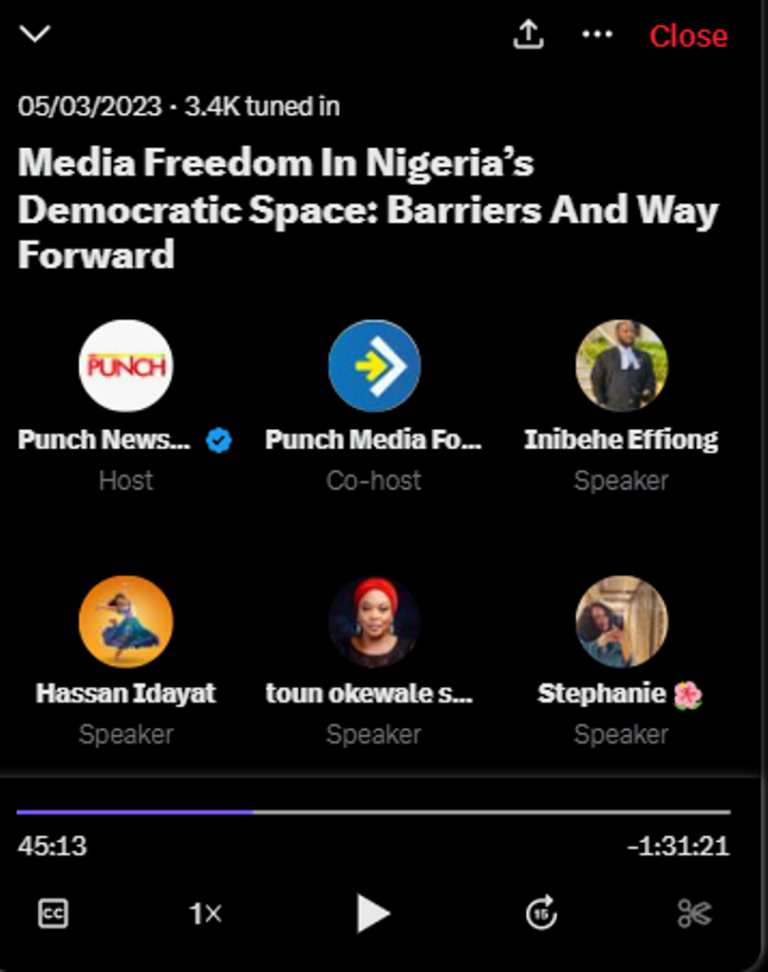 To commemorate the 2023 World Press Freedom Day, PUNCH Media Foundation hosted a Twitter Spaces with the theme, Media Freedom and Freedom of Expression in Nigeria's Democratic Space: Barriers and Way Forward, on Wednesday, May 3 at 11 am.
In line with the global theme of the 2023 WPFD, Shaping a Future of Rights: Freedom of expression as a driver for all other human rights, the Twitter spaces provided a platform for journalists, activists, policymakers, human rights defenders, and the public to discuss and explore the role of press freedom as a critical driver for the promotion and protection of all other human rights.
Taofik Sanni, the Senior Programmes Officer of the PUNCH Media Foundation, in his opening remarks, noted that the event was organised to stimulate constructive dialogue and engagement that will help to generate actionable ideas and solutions to advance media freedom and freedom of expression in Nigeria. The space was moderated by Stephanie Adams-Douglas, the Deputy Manager of the Media Freedom Project, CJID.
Speakers at the event – the Executive Secretary of the National Human Rights Commission, Anthony Okechukwu Ojukwu, SAN, represented by Arase Agharese; the Chief Executive Officer of Women Radio 91.7, Toun Okewale Sonaiya; the Deputy Director of Socio-Economic Rights and Accountability Project, Kolawole Oluwadare; the Editor-in-Chief, CrossRiverWatch, AgbaJalingo; the Director, Centre for Democracy and Development, Idayat Hassan; and human rights and public interest lawyer, Inibehe Effiong – were unanimous in demanding that the rights of journalists and the media be defended in Nigeria.
While Effiong asserted that Nigeria has one of the best legal regimes, particularly where the protection of human rights was concerned, he, however, regretted that implementation, which was important, was lacking. Hence the serial attacks on journalists. Similarly, Sonaiya maintained that the press should remain undaunted in holding the government accountable, not minding the attack it could attract. Kolawole was equally unapologetic in stating that the Police have no right to arrest and detain any journalist or citizen for expressing their freedom of expression.
In reaction to the safety of journalists in Nigeria, Agba Jalingo urged that journalists bond together while putting their pen to good use, which is their weapon. He added that the unity of journalists would go a long way to securing press freedom. He also urged journalists to take the issue of professionalism seriously while vehemently opposing every effort to criminalize freedom of the press. Also, Idayat observed that the media space is fast becoming unsafe as media organisations are trolled online for their reports.
PUNCH Media Foundation hosted the Twitter Spaces to engage stakeholders and galvanise efforts to advance freedom of the press for a more just and inclusive civic space in Nigeria.